Every company uses individual processes and systems to ensure its success. To ensure that our systems can provide you with the best possible support in your business, krauth technology seamlessly integrates your sales system into your existing IT infrastructure.
With our extensive experience in interface design and our detailed knowledge of interfaces and applications, for example of the VDV, we will find the right system solution for your requirements. Whether it is the integration of a control center system for real-time monitoring, the integration of a portal for the sale of long-distance tickets of the Deutsche Bahn or ensuring comprehensive fare management with the help of a cash deposit machine - krauth technology will plan and implement your request.
ELECTRONIC TICKETING WITH THE VDV CORE APPLICATION
The VDV-Kernapplikation (VDV-KA) is an open data and interface standard for electronic ticketing or electronic fare management (EFM) in public transport. At the same time, the VDV-KA is the technological core of the electronic ticketing system (((eTicket Deutschland. All EFM transport systems and companies associated with them throughout Germany, are based on this technical standard.
As a supplier of ticketing systems, krauth technology offers compatible complete solutions for stationary and mobile ticketing sales systems. They work in conjunction with a background software system that supports the VDV core application. These can be operated as terminals for sales and/or as terminals for checking and recording e-tickets.
We offer:
VDV-KA in the expansion stages 1-3
Action management
Multi-authorization
Static authorization
Tariff modules according to PKM
Ticket printer (FAD) and mobile terminals (MT) as service provider terminal (DLT)
Ticket vending machine (FAA), FAD and MT as customer contract partner terminal (KVPS)
Background system (HGS) as service provider system (DLS)
HGS as customer contract partner system (KVPS
The VDV-KA compatible data supply and data disposal, as well as the communication with third systems, is enabled by our background system. This serves as a fully-fledged service (DLS) and/or customer contract partner system (KVPS) in accordance with VDV-KA. Alternatively, it is also possible to connect our background system to an already existing DLS or KVPS, in which case it assumes the function of technical operations management. We have been able to implement interfaces onto several systems, which are already established on the market, such as VAS, Patris and more.
The connection of our DLS/KVPS to the participating systems in the interoperability network (ION) can take place directly or indirectly: directly via the central switching point (ZVM) of the core application or indirectly via a common service point (GSS). For these combinations we have already been successful in implementing connections for many transport network services, for example the HVV, VBB, RMV, MDV or also Bodo.
We support all technical expansion combinations of the VDV core application, from cashless payment (level 1) to electronic ticketing (level 2) to automatic fare determination (level 3).
We already have implemented all major systems use cases and options of the VDV-KA, these include static authorization as well as multi-authorization and action management. In addition, our systems can plot the sales and checking of electronic tickets as well as paper tickets. This is done via the tariff modules standardization, as part of the VDV-KA, known as product and control modules (PKM). You can find out more about this here.

Additionally, the Man Machine Interface (MMI) and the design of our terminals, meet all the requirements of the VDV-KA customer interface KUSCH.
INTEGRATION OF TICKET VENDING SYSTEMS INTO AN
INTERMODAL TRANSPORT CONTROL SYSTEM

ITCS integration refers to the integration of an Intermodal Transport Control System (ITCS). In the past this was referred to as a computer-aided operations control system (AVLC, control center), which is integrated into the IT infrastructure of a transportation company. The integration includes centralized and decentralized components to achieve a comprehensive solution for operations monitoring and system control.
By integrating the ITCS functionality into the on-board computer with sales functionality, the need to operate different devices for different applications can be avoided. This also makes maintenance easier. It also allows sales functionalities and operation control functions to be directly intertwined, for example by preventing ticket sales to a stop that has been closed at short notice. Ultimately, this leads to higher customer satisfaction and a stable customer base.
By integrating the ITCS functionality into the on-board computer with sales functionality, the need to operate different devices for different applications. At the same time, this makes maintenance easier. It also allows sales functionalities and operations control functions to be directly intertwined, for example by preventing ticket sales to a stop that has been closed at short notice. Ultimately, this leads to higher customer satisfaction and a stable customer base.
Benefit from the extensive possibilities of a central control center:
Communication options such as messages, instructions, call requests (normal, emergency), telephone directories, announcements, etc.
Operational control via services, scheduling, routes, special trips with automatic trip or route updates, etc.
Arrangement options such as trip cancellations and detours, on-demand stops, extended trips, short runs, etc.
Control options for drivers, bus position, bus utilization, timetable situation, connection protection, defects, etc.
Data management such as provision of passenger information to DFI displays via VDV interfaces
We support a wide range of ITCS vendors!
The central ITCS application can be provided by you or one of our partners, allowing us to flexibly integrate our devices. The integration of the devices is done by our own software module, tailored to the respective interface of the ITCS provider. We or our partners will be happy to advise you on ITCS features and modules that fit your work processes.
CONNECTION OF THE
DB LONG-DISTANCE INTERFACE

IN TICKET VENDING MACHINES
for schedule-based sales of the Deutsche Bahn AG
Transport companies that now operate rail services throughout Germany alongside Deutsche Bahn (DB) have had to expand their range of tickets to include other products that are relevant in cooperation with other fare providers. For example, DB tickets have long been offered as an alternative in the integrated transport system.
With the integration of our self-developed device-independent interface called DB-GUS in our ticket vending machines, it is possible to offer schedule-based sales of Deutsche Bahn AG on a large scale. Thus tickets, reservations, season tickets etc. can be sold. Just like on a DB ticket vending machine, it is possible to select various options. These include round trips, the use of various discounts (Bahncard and foreign discounts), the collection of BahnBonus points, the choice between Flexpreis, Sparpreis and Supersparpreis and much more.
Possibilities of the DB-long distance travel interface
Sale of tickets in the EU
Sale of tickets without seat reservation
Selection of reservation requests
Use of discounts (domestic and foreign)
Participation in the BahnBonus project
Selection between Flex-, Spar- and Super Sparpreis
Vending machine interface developed in nodeJS
We make the sale of DB tickets possible in your network as well!
The DB long-distance interface offers all customers software that is subject to permanent security measures and feature updates. Since the software has already been in use for some time and has a low incidence of errors, the stability and reliability of the version is guaranteed. In order to be able to guarantee the required efficiency and speed of the processes, the most modern technologies are used.
Your advantages at a glance
Option to expand the sales area both nationwide and Europe-wide
Option to expand the sales offer
User-friendly operation through a sales interface based on the DB ticket vending machines
Faster sales processes than with DB ticket vending machines
Timetable-based live sales
THE
NOVA

INTERFACE
for the integration of a network-wide price system in Switzerland
The "Network-wide Public Transport Interface", NOVA for short, is the core element of the Central Price System öV Switzerland.
The technical platform for the sale of public transport products has replaced the previous core systems of National Direct Transport and their associate travel companies. These companies have
combined their individual systems into a single structure. NOVA contains all the central elements for the sale of public transport services. Via the NOVA interfaces it is possible to link the sales systems with NOVA. This interface identifies the divisions between the intermediary systems of the different transport companies. These in turn sell public transport services through their own sales channels and the public transport provider through the public transport platform.
Whilst travelling, there is often no permanent or stable online connection. Therefore, the NOVA offline application can be used. This is able to process requests offline as well as online. In offline mode, NOVA Offline can independently process entire sales backed up by locally stored master data. The sales data is stored locally and transferred to the public transport platform during the next online contact.
Integration of the NOVA Offline Application into Ticketing & POS Systems
krauth technology was one of the first system providers to integrate the NOVA offline application into the existing ticketing and POS systems. The solution has proved to be suitable for all Swiss customers who use the ticketing and POS systems AK 0325, AK 0332 as well as the chauffeur devices AK 0139 Touch from krauth technology GmbH.
Even existing systems that have already been installed, can easily have their memory and processor performance upgraded so long as the hardware is compatible with the requirements of the NOVA interface. This is done by means of a conversion kit.
Integration of sales systems into existing
IT-Infrastruktur
IT integration refers to the integration of our sales systems into the customer's IT infrastructure. Depending on the scope of the existing IT infrastructure, such as servers, remote access or firewalls, the installation of the components must be planned and the communication paths defined.
IT systems in the transport industry often differ greatly from another. They range from large corporations with their own IT department and data center to small businesses that have all their IT services purchased and administered externally. The ticketing systems from krauth technology can be seamlessly embedded in all of these IT environments and individually installed and operated according to individual company's wishes.
Benefit from our expertise in designing IT environments
Whether VPN, firewall, virtualization or external hosting - we can plan your ticketing system according to your wishes and requirements. Furthermore, we will of course be happy to advise you on IT and security topics such as encryption or certificates in order to find the best solution for your company.
We are also happy to implement interfaces for connecting existing external systems, such as a cash deposit machine or planning or accounting software, in order to provide the best possible support for your internal processes. In cooperation with you, we will of course also take care of the subsequent installation of the distribution system. If you require external operation of subcomponents, we also offer suitable hosting services for this.
We work with you to develop the right IT strategy for your ticketing system!
Here's how IT integration works when implementing a sales system.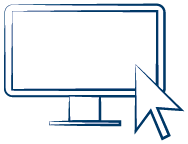 IT integration is a service that krauth technology offers as part of a project to implement or change a sales system. Since the solution depends heavily on the customer's infrastructure and administrative capabilities, this part of the project has to be very flexible. In most cases, however, the customer provides server resources on which we install our system components. Currently, standard installation of a Linux server provides monitoring and the MDC and with which the end devices then communicate via a VPN connection. The SMART background system is installed on one or more Windows user PCs. The necessary Firebird database is usually installed centrally on a Windows server so that all users can work with the same data.
CONNECTION TO
DEPOSIT SYSTEMS
Our solution for easy accounting of fare money
Every transport company is familiar with this: bus drivers who also sell tickets and ticket agents, who are responsible for sometimes a lot of cash, after closing time. For this reason, central depots often request the installation of cash deposit systems. A cash deposit system enables cash to be deposited efficiently and at any time of night and day with little administrative effort.
krauth technology has developed various import filters and program modules for connection to depositing systems. These modules are designed for secure cash accounting and the management of cash receipts.
For both small and large sales systems, we have a scalable and cost-effective integration solution for you. The implementation is economical, fool proof and prevents misuse without loss of convenience.
This is how the
connection to a deposit system

works
Simple connection to the background system
An example of how the deposit system works independently of the rest of the system. The depositor logs on to the machine with their ID and deposits the cash. In a downstream process, the registered information are transferred to the background sales system thanks to batch processes and booked in the account management system.
The system with a contactless enrollment card registers every step, from the enrollment at the ticket vending device, to the posting of cash deposits. Card support for other processes requiring secure login can be created.
Extended connection with contactless registration card
The more complex variant requires the use of contactless registration cards. krauth technology GmbH offers a complete system for this, including the program modules for managing, generating and printing of the chip cards. The registration cards are then used for registration at the ticket vending machine and at the cash deposit machine.
The card's electronic memory contains not only the owner's login data, but can also gain access to stored information about the sales balance and deposits already made. This avoids false accounting entries. It also helps prevent common accounting errors and possible misuse.
A program module running on individual machines compares the details on the registration card with the information stored in the background system. This provides the depositor with the most accurate information possible about their balance. The replacement of a lost access card causes no major problems as the card itself doesn't hold information about the balance.
System requirements

for an automated connection
As a minimum requirement, deposit solutions have to be able to export paying in data via a network interface in an interpretable format. For extended use, it must also be possible to connect a chip card reader for reading contactless chip cards according to ISO14443. For this purpose, krauth technology GmbH has developed suitable program modules.
Our solution of cash deposit machines is suitable for dealing with coins and banknotes.
However, since certain functionalities require programmatic access to the capabilities of the deposit systems, not every device is compatible. We offer special import filters and program modules for certain manufacturers and models of deposit systems. We will be happy to advise you on the selection of equipment. It is often possible to connect deposit machines that have already been used autonomously.
Do you have questions about specific interfaces and applications for your sales system?
Our sales team will be happy to advise you and answer any questions you may have.